Dry Load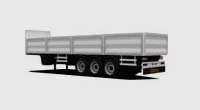 CHASSIS
Reinforced I Section main chassis 120/12mm top and bottom sheet iron and 5mm ST52 middle sheet metal, welded with
automatic shielded carbon electrode welding machine.
These chassis are supported against twisting by traverses joining them together.
AXLE
3 axis with 9 or 12 tons capacity are used.
Brake linings conforming to TSE norms and heavy duty brake levers exist.
SUSPENSOR
Automatic bellow emptying system
Parabolic double layer Z axes and suspensors.